Over 30 Years of Experience in the Electronics Industry
Flat Panel Technologies is a turn-key installation service in the Edmond and Oklahoma City area. Our team can help clean up your craziest wire messes, consolidate as many remotes as possible, and will provide training on the operation of your new system. We always try to utilize as much existing equipment and wiring as possible to reduce your costs.
Our process includes continually learning new ways to accomplish and improve our installation techniques. We also work to stay on top of the latest in new tech innovations, products, tools, and programming, to remain cutting edge in today's rapidly changing electronics industry. Get to Know Flat Panel Technologies
Our business has developed into many different services, still specializing in electronic installation, but we now offer many other services to both commercial and residential clients. We are looking forward to your project!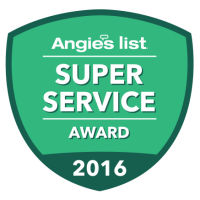 Angie's List Super Service Award Winner Multi-Year Winner
This award is only given out to companies that display superior customer service in their industry.